RESTORE YOUR PORCH
As the wood surface is exposed to sunlight, dirt, rain, snow or mildrew, it eventually destroys the appearance. This happens fairly quickly to unprotected wood. An important step in restoring wood decks is proper cleaning. Mr. Porch uses a wood-penetrating sealant, prolonging the life of wood within its first application.

Mr. Porch recognizes what our customers need when it comes to wood restoration — which includes fences, wood siding, gazebos, play sets and more. Mr. Porch provides the experience and proven methods to serve all your wood restoration projects.
We use a transparent oil-based, penetrating sealant that containing a fungicide and mildewcide. It penetrates deeply into the wood fibers, replenishing the natural oils lost in the wood – thus minimizing wood rot, mold and mildew growth, cracking, splitting or cupping of the wood. (See Diagram).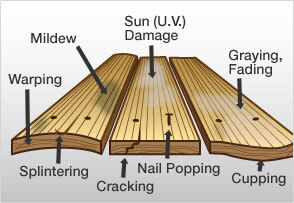 Porch Restoration
While keeping the vision of beautifying your outdoor living we also believe in restoring the beauty to the maximum. Our skilled and efficient team can restore the integrity of all types of surfaces which are exposed to weather conditions. We have been delivering superior quality finishing to the exposed surfaces that they look as good as new.
Our team provides power washing to all sorts of wood which has been used to create decks, fences, pergolas and gazebos. The specialized equipment and efficient workers enable us to provide our customers with a detailed cleaning. The workers give time to every detail and cleaning lasts for many months. We provide the initial estimate of cost and try our level best to remain in the provided budget. We welcome the owners to monitor the progress from time to time so that they are sure that we clean every bit while they remain informed of the progress of the project.
Cleaning the wood is slightly challenging for homeowners as it requires expertise according the wood types. We start the process by removing all sorts of previous coatings, dirt, algae and molds.  After the first cleaning, the wood needs to be dried and we let it dry under the natural climatic conditions. Sanding is the next step in the cleaning process. Sanding exposes the clean wood and open the grains, gives a smoother look to the wood.
WOOD RESTORATION PROCESS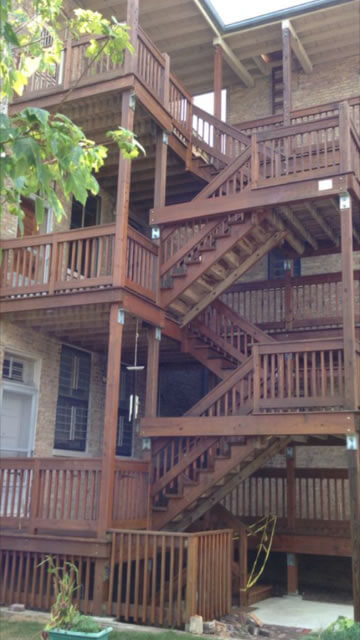 First – Before we start, we cover and protect the surrounding area – grass, other structures, concrete patio and any household items.
Second – We use our top-notch power-washer. Based on the type of wood, we determine and regulate the required water pressure.
Third – If requested, we use cleaner and rinse the wood surface prior to sealing.
Last – We rinse off the wooden surface.