As the wood surface is exposed to sunlight, dirt, rain, snow or mildrew, it eventually destroys the appearance. This happens fairly quickly unprotect wood. An important step in restoring wood decks is proper cleaning. Mr. Porch uses a wood-penetrating sealant, prolonging the life of wood within its first application.
Mr. Porch recognizes our customer's need when it comes to wood restoration which includes fences, wood siding, gazebos, play sets and more. Mr. Porch provides the experience and proven methods to serve all your wood restoration projects.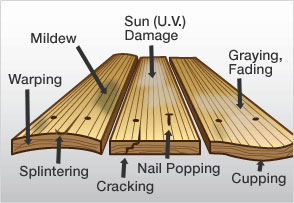 DT-1000 is a penetrating sealant, containing a fungicide and mildcide. Because of its oil base (Paraffin Oil), it penetrates deeply into the wood fibers, replenishing the natural oils lost in the wood, subsequently minimizing wood rot, mold and mildew growth, cracking, splitting or cupping of the wood. (See Diagram)
WOOD RESTORATION PROCESS:
First - Before we start, we cover and protect the area around, such as grass, structures, and any household items.
Second - We use our top of the notch power-washer. According on the type of wood, we determine and regulate the required water pressure.
Third - If requested, we use cleaner and rinse the wood surface for sealing.
Last - The wooden surface is rinsed off.
Call Mr. Porch today at 877-677-6724 for a FREE estimate on your wood restoration.